Maryssa Smith and Co-Host Rodney Daniels join some of best and brightest Comic's NYC has to offer for Big Talk about today's hottest topics. No subject is ever off limits. Each week we explore some of the hardest subjects in the most hilarious way possible.
Have you ever wondered what Stand Up Comic's talk to each other about? Each show you'll feel like a fly on the wall for some of our most entertaining, intimate and intense discussions. Big Talk and Brewskis, is a glimpse into water cooler conversations held in green rooms across New York City. When your office is the back room of some the most world renowned Comedy Clubs and Theaters in NYC, the water cooler is a bar. Each show we crack open a cold one and enjoy some Big Talk.
We have had some incredible guests on Big Talk and Brewskis! Past guests have been Jim Gaffigan (Jim Gaffigan Show), Kurt Metzger (Inside Amy Schumer), Corinne Fisher (Guys we F#cked), Phoebe Robinson (2 Dope Queens), Matt Pavich (Joking Off), Dave Sirus (SNL), Jeffrey Gurian (The Interrobang, Oh, Hello Broadway), AJ Mattioli ( Award Winning Film Maker) Rain Dove (Super Model), Markus Kelle (Entertainer), Mindy Tucker (Award Winning Photographer) and Broadway Star Kevin Smith Kirkwood (Kinky Boots the Musical) to name a few.
Big Talk and Brewskis has also been able to dive into national headlines before the big networks.
Comedy Club owner Al Martin on the show to address Sarah Silverman's accusation that she was a victim of the Wage Gap at one of his clubs. Al was interviewed by Good Day America a week after he was a guest our show.
Big Talk and Brewskis is a Fashionably Funny Production. Fashionably Funny Productions have been producing live comedy shows in NYC and Westchester since 2009. Currently, they produce two monthly Live Comedy shows. You can catch Fashionably Funny at Broadway Comedy Club and Merriment and Mortification at Otto's Shrunken Head monthly! Check out the fan page for listings!
So pull up your most ergonomic chair, crack open a cold one and join us for some Big Talk & Brewskis.
Host:

is an emerging talent on the New York City comedy scene. Born in Brooklyn and raised in Westchester, New York her style is both edgy and sophisticated. Sardonic in style, her smooth delivery and keen wit are very memorable. Maryssa has performed at many of New York City's premier comedy clubs, such as Caroline's on Broadway, Comic Strip Live, Gotham Comedy Club, Eastville Comedy Club, Broadway Comedy Club and The Stand just to name a few. A finalist in the Westchester Comedy Festival and Hudson Valley Comedy Festival, she has been featured on The Dr Oz Show and The Wendy Williams Show. Maryssa Smith has her finger on the pulse of her generation.
Co-Host:
Rodney Daniels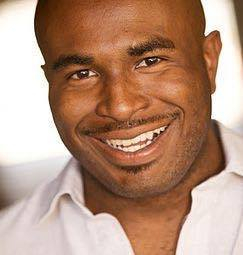 is an actor, comedian, host, and Radio personality. He was born in Pennsylvania. He is a graduate of the Milwaukee High School of The Arts. He also attended Howard University where he majored in Theater. After several years of living in Los Angeles where he persued acting he moved to New York City and his career in comedy really started to take off. He is the co host of Big Talk and Brewskis Podcast. He has performed at the Cesar's Palace in Atlantic City and you can currently catch him hosting and performing on shows all over New York City.